This document is intended as a resource for IT organizations and procurement offices within educational institutions. It provides basic background information on the Open Badges standard, sample RFP language, and additional considerations when specifying support for 1EdTech-certified Open Badges as part of the procurement process.
What are Open Badges?
An open badge is a digital record of achievement—a verifiable credential that describes specific skills demonstrated by an individual and often includes actual evidence used to evaluate the individual's achievement. Open Badges are a special type of digital badge based on adherence to the 1EdTech Open Badges technical standard, which contains not only a visual image but a set of rich metadata embedded directly inside the image file itself. A broader ecosystem of technology services has emerged based on the Open Badges standard, allowing learners to move their badges into and out of various platforms over time. The Open Badges standard supports the learner's ability to take control of their credential by saving it and sharing it with whom the learner chooses. 
The current public version of the standard, Open Badges 2.0 (OBv2), and its companion OBv2.1, offer robust and reliable functionality to users in the education and employment marketplace with skills metadata, verifiable authenticity and quality, and learner control of their personal achievement records. OBv2.1 BadgeConnect is an open API standard that supports learning mobility by allowing learners to move their credentials to systems of their choice. BadgeConnect is an essential element of interoperability.
The latest version of the standard, Open Badges 3.0 (OBv3), offers the benefits of OBv2, and includes enhanced features, such as layers of cryptographic proof that can provide security and privacy, alignment with the W3C Verifiable Credential Data standard, aligned with the Comprehensive Learning Record 2.0 standard, and supports a native API to allow for learning mobility.
What is the difference between

1EdTech-certified

Open Badges systems/platforms and those that conform to the Open Badges standard?
Any system may purport to have adopted (conform) to the Open Badges standard, however, that does not mean that the system has been tested and certified as conformant.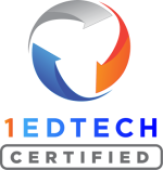 1EdTech certification requirements for Open Badges ensure that the badges are:
Correctly formatted and contain the required elements of Open Badges

Retrievable by the recipient and portable across the Open Badges ecosystem

Verifiable by those who view the badge
Products may achieve 1EdTech certification for one or more of the following services:
Open Badges Issuer

(creates and distributes Open Badges)

Open Badges Displayer

(displays Open Badges)

Open Badges Host

(imports Open Badges)
All certified products are issued a certification number and are listed in the official 1EdTech Certified Product Directory at imscert.org. If you experience an interoperability issue with a product listed here, 1EdTech will work with the supplier to resolve the problem. If a product is not listed in the 1EdTech product directory it has either not passed 1EdTech certification testing or its certification has expired.
To ensure that your educational technology ecosystem is interoperable, we recommend requiring 1EdTech conformance certification as part of your procurement process and RFP documents.
Suggested RFP Language and Resources for Procurement
There are several approaches when specifying the institutional requirements for an Open Badges system as part of the RFP and acquisition process, ranging from a basic inquiry about conformance to stringent and specific requirements for 1EdTech certification and more. Below is sample RFP wording that spans this range, as well as additional guidelines to request from the technology supplier as part of the procurement process.
Suggested RFP Wording and Clauses for an Open Badges System:

[

Institution name

] is committed to an open standards-based, interoperable teaching and learning technology ecosystem. We are requesting [

vendor/product

] obtain certification by 1EdTech for Open Badges no later than [

specific date

]. *Specify specific properties, values, and extensions—see below.

[

Institution name

] requires [name of product/supplier] to be 1EdTech-certified for Open Badges. The vendor is required to provide a valid and current 1EdTech certification registration number. See

1edtechcert.org

. The supplier is also required to remain current with subsequent versions of the Open Badges standard and receive certification within a "reasonable" [

define

] time period. Additionally, [

vendor

] will describe how the optional Open Badges properties and extensions may be added to the service at the request of [

name of institution

]. *The latest version—OBv2—could be specified.

Describe how the system conforms to the latest 1EdTech Open Badges standard as available on the 1EdTech

website

.
 Additional Open Badges Requirements to Consider:

The Open Badges system/platform [

vendor/supplier

] must allow the recipient of the badge to download and store them locally or upload to an Open Badges host of their choosing with no loss of the original badge data.

The Open Badges supplier [

vendor/supplier

] must provide [institution] a description of the method they use for recipients to display their Badges.

The Open Badges supplier [v

endor/supplier

] must provide [

institution

] with a description of their exit strategy and instructions as to how recipients can port or move their badges should the vendor or system no longer be viable.
Suggested Guidelines:

Verify that the supplier is

1EdTech certified

for Open Badges and have the supplier provide their certification number as listed in the 1EdTech product directory.

An additional RFP resource is the

Statement of Intent to Adopt 1EdTech Consortium Standards in a Timely Manner

, created for institutions to use when guiding suppliers to support the most up-to-date features of the standard now and as the standard evolves.

Request details from the supplier as to how their system/platform meets current industry standards for accessibility, particularly regarding any web pages that display recipients' badges and are intended for public consumption.
Key Features, Properties, and Extensions of Open Badges
The Open Badges standard contains a rich set of properties (metadata) about the achievement including criteria to earn the badge, evidence submitted to meet the criteria, details about the issuing organization, and more. Many properties are required to be a valid open badge, and some properties are optional. The complete set of these data elements and extensions can be found here. 
You may find there are data elements or extensions that are important to you but are optional within the standard. If so, you need to specify in your RFP those desired properties are supported to ensure that the vendors are responsive to your particular requirements. 
Below is a list of key OBv2 features, properties, and extensions with brief descriptions for consideration. It is recommended that you detail your mandatory and optional features, properties, and extensions as part of the procurement details.
Accreditation

- An extension to Open Badges that provides a way to include metadata about an issuing organization's accrediting body

Alignment

- Metadata that references an external framework (e.g. state educational standards, skill or competency framework)

Assessment

- An extension to Open Badges that provides a way to include metadata about how the criteria for an issued badge was assessed 

Criteria

- Descriptive, formattable metadata about the achievements necessary to earn a badge

Endorsement

- The ability for a third-party to make supportive claims about a badge, issuing organization, or recipient

Evidence

- Descriptive metadata about evidence related to the issuance of a badge

Expiration

- The ability to establish an expiration date on an issued badge

Multilingual

- The ability to issue a badge in multiple languages

Revocation

- The ability to revoke badges after they have been issued

Versioning

- The ability to issue updated versions of a badge without altering previously issued versions of the badge
Other Considerations
As with all educational technology products, educational institutions are obligated to obtain and review the supplier's policies and practices regarding issues such as terms of use, data privacy, information security, data ownership, data retention, accessibility, and more. 
Need assistance? Have questions? Contact us at support@1edtech.org.