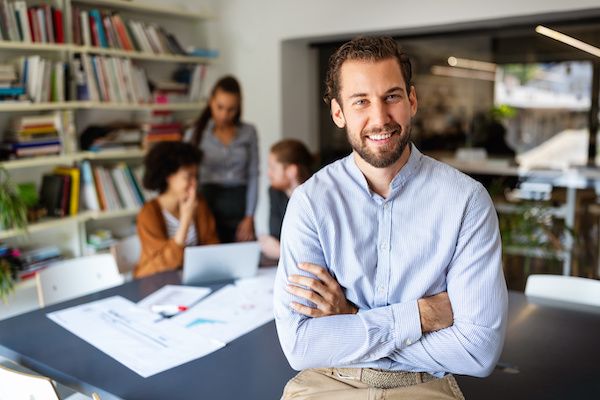 There is a lot of talk about how microcredentials may be the answer to declining enrollments in higher education, particularly for community colleges. Still, for me, a more compelling argument coming out of the 2023 Digital Credentials Summit for beginning a microcredential program is that it's the right thing to do. 
It's the right thing to help meet the needs of the new majority learner, it's the right thing to close opportunity gaps, and it's the right thing to help meet employment needs. 
A panel of college presidents laid out these benefits and the challenges to making a successful program at the Summit. One thing was clear: to address these current challenges, we can't depend on past strategies. We need to think outside the box; microcredentials are one step in getting there. 
New majority learners are those who can't follow the traditional college degree timeline. They work full-time, have families, or simply can't afford to pay for classes without a guarantee of employment at the end. Microcredentials, on the other hand, work for these learners because they can be earned in a shorter period of time and on a flexible schedule. It's easier to follow through and gain the benefits of the credential.
Prince George's Community College
"Our students are seeking a better life through education and opportunity, and we help them achieve it," said Falecia Williams, president of Prince George's Community College. "Digital credentials give them a foot in the door, a chance to start building a future with a stable career and advancement opportunities so they can support themselves and their families."
By providing microcredential programs, educational institutions are recruiting and retaining students that traditionally dropped out or never even considered higher education in the past. Yes, that's good for their bottom line, but our panelists see it as a higher calling.
By meeting the needs of new majority learners and redesigning the system that blocked their way to success, these institutions are closing the opportunity gap to living-wage jobs and providing their local economies with the talent to fill employer needs.
Rio Salado College
"Many community members cannot engage with post-secondary learning because of barriers to traditional education models for reasons such as full-time work, care for families, or significant barriers related to socioeconomic position," states Kate Smith, president of Rio Salado College. "We work to create paths around those challenges so that everyone has opportunity and access to post-secondary learning that creates social and economic mobility pathways for the betterment of the individual, families, and the greater community."
The presidents stress that institutions must partner with employers and local businesses while developing their microcredential programs. To be successful, institutions should start with finding these partners to determine the competencies needed to make learners successful in the workforce and create common definitions so employers understand what the credentials mean.
College of Eastern Idaho
"When institutions find the right partners, we are creating opportunities for our students and future students to access high-demand jobs and technical careers," said Rick Aman, president of the College of Eastern Idaho. "We're also supporting the local economy by providing talent to fill the positions employers need."
Community College of Aurora
"Businesses need our students now. We need to transform our learning experiences to help upskill or reskill people to fill in-demand, high-wage occupations," said Mordecai Brownlee, president of Community College of Aurora. "Credential programs also offer the opportunity for students to continue their education later, without needing to start again from scratch."
Taking this step will help set your program apart, especially as the use of credentials grows. There are currently 31 platforms certified in 1EdTech's Open Badges standard, and these certified platforms have issued over 74 million open badges. This is good news. By following 1EdTech's standards, those badges will be easily shared across platforms, regardless of the issuer, making them more valuable to the learner. That also means that competition over badges is increasing, so you want your credential to stand out.
The growing popularity of microcredentials is also positive because the more successful these programs are, the more institutions and employers will adopt them, creating seamless pathways from education to the workforce. 
Until then, institutions need to form these partnerships to create microcredentials and identify champions to move the programs forward through advocacy and analysis, making corrections and improvements when needed. 
1EdTech has a growing community of these forward-thinking institutions, ready to support one another whether they are just starting their microcredential program or if it is years in the making. 
We'll have more learning and in-person collaboration opportunities at our Learning Impact Conference, June 5-8, in Anaheim, California. These include a panel of experts discussing the high-value applications of digital credentials, including professional learning, providing students with learning pathways, building competencies, recognizing achievement, and connecting education to the workforce pipeline. We'll also have sessions from institutions describing how they created their microcredential governance model, how to use digital badging to promote faculty development, how to keep microcredentialing programs sustainable, and more. We hope to see you there!
Published on 2023-05-04